Restaurants in Kauai are diverse enough to suit every preference in your party. You can grab pizza for the kids or enjoy the outdoor Hawaiian sunset with your sweetheart while you dine on gourmet seafood. Kauai restaurants offer a large amount of Japanese and Italian choices. You should not go home without trying the fresh sushi or the special pasta dishes. Additionally, you can enjoy an authentic Hawaiian luau and take pleasure in the native island cuisine. If you just need a quick sandwich before you head to the beach, check out Brennecke's at the end of the green belt just before Poipu Beach. We want to make sure your dining experience in Kauai is optimal for you. If you have any questions be sure to call Lauren.
Plantation Gardens
Plantation Gardens provides a fine dining experience that comes straight from the heart of the island. Fresh, local and organic, the Pacific Rim menu is not shy about impressing each guest. More than just a meal and quality service, the surrounding gardens are excellent for a before or after dinner stroll. The fresh air dining room is comfortable and you will immediately feel at home. Known for its cuisine, you can also host events on its luxurious grounds.
Beach House Restaurant
Serving a Pacific Rim menu the Beach House Restaurant is consistently awarded as one of the best restaurants on Kauai. Located on the southern tip of the island it provides a wonderful view for sunset dining. The menu accommodates child and adult tastes making a fitting family venue. Fresh from the local seas the Mahimahi is a signature favorite. Open during the evenings only, it is best to make reservations in advance for the Beach House Restaurant.
Kalapaki Joe's
Kalapaki Joe's is a fun, relaxing sports bar and grill. Check out the live sports action and ocean view while enjoying the island's largest selection of drinks. But this isn't just a sports fan's hideout it is also fun for the whole family. With a large menu this is truly a something-for-everyone dinner location. Make a reservation or just walk right in to Kalapaki Joe's.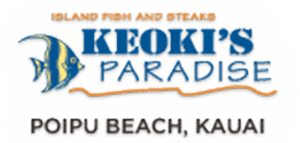 Keoki's Paradise
Keoki's Paradise is a popular Poipu dining retreat and is close to many south shore attractions. With a Pacific menu that has a wide variety of options you are sure to find something just for you. Apart from nightly dining try Keoki's Bamboo Bar & Cafe for lunch and dinner. Keoki's Paradise has a perfect scenic setting that allows you to soak in Hawaiian culture and atmosphere.
Kalaheo Cafe & Coffee Co.
The Kalaheo Cafe & Coffee Co. is a Kauai tradition originally known for its coffee. They specialize in Hawaiian and Kona coffee but also boast a fine selection of international coffees. It has also expanded into a bakery and cafe that serves a delicious breakfast and lunch-plus menu. No matter what you order you can count on it being fresh. Visit the Kalaheo Cafe & Coffee Co. daily or stock up for your return home.
Puka Dog
For a truly local experience you need to visit Puka Dog, a Kauai original. It is more than just a tropical hot dog. The Puka Dog is made of fresh baked bread, not sliced, but with a hole drilled through the middle into which a delicious sausage and sauces are poured. There are a variety of secret sauces to choose from to give your dog your own signature taste. Make a quick stop into Puka Dog and get this unique Kauai treat.
Papalani Gelato
Discover Hawaiian Gelato and Chocolates Eating Papalani Gelato is like sending your taste buds on a vacation! We've mixed old-world Italian craftsmanship with the unique flavors of Hawaii to create one-of-a-kind frozen delights. Tropical ingredients like mango, macadamia, papaya, and lychee meet traditional favorites like pistachio and fine Belgian chocolate in an explosion of smooth, dense, rich flavors. Handmade in small batches each day from fresh, locally sourced ingredients, our gelato has been a hit with customers since we opened our first Papalani Gelato shop in 2008. Looking for a culinary thrill-ride? How about basil, avocado, or sour cream gelato? Try a free sample of one of our out-of-the-box flavors and get ready for the oooo? aaaahh? and ? wow? that follow! We feature dairy free, gluten free, and no sugar added options. We also feature a unique line of hand made chocolates and Hawaiian made gift items from around the islands.