As a Poipu Seal, I'll be the first one to tell you that beaches are a blast! Sun, sand, waves – the perfect combination for vacation fun on beautiful Kauai. Still, not all beaches are created equal. While some beaches are perfect for surfing or boogie boarding, others are better suited for families with small kids. The same wave that sent Mr. Surfer Dude on the ride of his life would be terrifying (and dangerous!) for little children. Not to mention, some beaches are known for rip tides and unpredictable wave patterns. So how do you keep your family safe while they have fun in the sun? That's where I come in. After spending my fair share of time at every beach on the Garden Island, I found three spots that are ideal for families with young children. Let me share them with you.
Ke'e Beach (North Shore)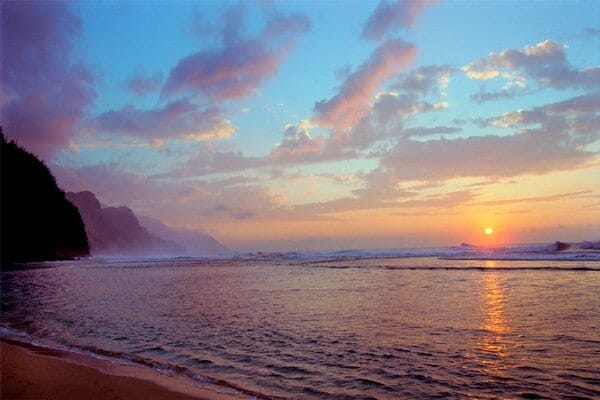 At Ke'e Beach there's fun for everyone. The shore is protected by a large reef which  means the waves are small and water is calm – a perfect place for children to play. Adults and teenagers can have fun too as the reef provides an ideal spot for snorkeling, bringing in small fish and other sea life. You might even see a few of my fellow monk seals who live with their families in the waters close by! Because Ke'e Beach is located adjacent to the Napali Coast hiking trails, the views from the beach cannot be beat. From one angle, you can gaze out into the expansive ocean, and from another, you can take in the Napali cliffs catapulting out of the water. There may be no better location from which to fully appreciate the island. You know you've hit a sweet spot if there are lots of locals to be found. While the beach may be crowded at times, there is a lifeguard to help keep an eye on your little ones. The only downside is parking; it's easiest to park before the tunnels and take the scenic walk down to the beach. If you're feeling really adventurous, bring a tent (and mosquito spray) and stay the night! Enjoy the sunset, and when you awake, your family will have the entire beach to themselves.
Tunnels Beach (North Shore)
Also protected by a reef, Tunnels Beach provides calm and predictable conditions necessary for young families to enjoy the ocean. It's said that Tunnels Beach has the best snorkeling on the island which means it is a perfect beach for the "in-between" family that has both older kids who want to experience sea life and underwater caverns and younger children who will be happier playing in the sand and shallow, docile waves. The water is crystal clear, so even the smaller ones can get a glimpse of underwater creatures without leaving the shore. Views from the beach are stunning – this beach was even featured on South Pacific! Tunnels is connected to the Haena Beach Park (best place for parking). The park provides lifeguards who keep an eye out for strong currents moving through the reef's "tunnels". After a day at the beach, take the family on a stroll through the hiking trails further inland to get a better view of the waterfalls close by. Be sure to wave goodbye – I'll be watching you from the ocean!
Poipu Beach (South Shore)
Ahhhh, Poipu Beach – my favorite. Due to the fact that Poipu is my home, I'm a little biased when I talk about it. Still, on its own, Poipu Beach has so much to offer. Be sure to arrive early! The beach can fill up fast – come visit and you'll see why, I know you'll be happy you dropped in. Poipu Beach is divided by a sandbar into two halves. During low tide, you can walk along the sandbar while the waves lap your feet. The water is calm on both sides, but the left side is better for kids. You'll even find a natural "kiddie pool" where the water is shallow and calm – perfect for little ones. Snorkelers will also be pleased to find beautiful wildlife such as the sea turtle and (my favorite) the monk seal. We have something for everyone! Poipu Beach is also one of the softer beaches on Kauai with less rocks; all beaches should have sand, and here we've got plenty of it. Of all three beaches I've mentioned here, Poipu Beach is the most accessible: parking is easy (right across the street) and eateries/places to picnic are in abundance. No need to get in the car to find a lunch spot – try the Beach House Restaurant, walking distance from the shore. Want to bring a picnic? Make use our pavillion or take a seat in the shade of our palm trees. What's keeping you? Come by and see us! My friends at the Villas at Poipu Kai will be happy you did.