Kauai is surrounded by gorgeous beaches. What's the perfect activity to do while you're relaxing near the water and enjoying the warm weather? Building a sandcastle! The Kauai Sand Festival, held in Hanalei Bay, is a celebration of creativity, togetherness, and fun. It's Hawaii's only sand sculpture festival and is always loads of fun. Participants meet on the beach and get to work crafting masterpieces made of sand. Some are simple and some are highly complex, but each is a labor of love and the entire event is filled with a spirit of camaraderie.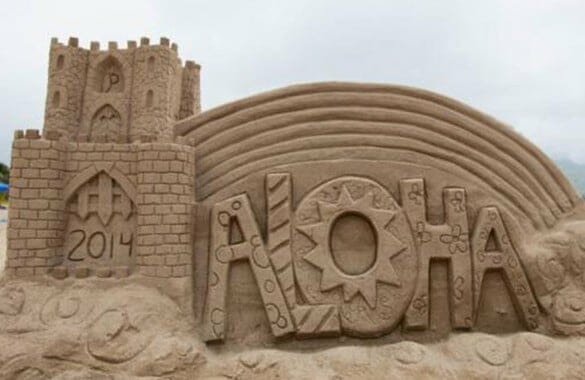 This family friendly event is open to people of all ages, and best of all it's free. You can opt to build a sand sculpture on your own or work with a team … the choice is up to you. If you'd rather watch the action, head to the area to the left of Hanalei Pier and support the participants. Each year brings a host of exciting new sand creations. You'll see many classic sandcastles, faces swirled into the beach, cars, mythical creatures, and much more. Everyone who makes a sand sculpture is in the running to win great prizes.
The festivities take place on August 13, 2016 from 11:00 am to 3:00 pm. Contestants register and check in on the day of the festival where they are given a stake for their sand sculpture area. No prior experience is needed, and you can make a sculpture of anything you'd like as long as it's only made of sand and water. No mechanical tools are allowed, but you can use hand tools including rakes, trowels, shovels, sand molds, and spray bottles filled with water to moisten the sand. A complete list of contest guidelines is available online. If you plan to come to the Kauai Sand Festival, remember to bring some sunblock, water, and a tent or umbrella — they really come in handy in the afternoon and are a great way to stay cool.
In addition to the sculpture contest, there will be music and plenty of opportunities to mingle with local residents and visitors. If you'll be in the Kauai area in mid-August, don't forget to stop by the Sand Festival in Hanalei Bay for an enjoyable and memorable afternoon!