For those in search of opportunities to relax on the sand, play in the water, and enjoy beautiful views, there are few better destinations than Kauai. The island has a wealth of beach spots, including Waioli Beach Park also known as Pine Trees of Hanalei Bay due to its proximity to the bay and the number of ironwood pines growing along the its edge. Whether you're ready to dive into the waves or you like kicking back and people watching, you'll have a blast at Waioli Beach.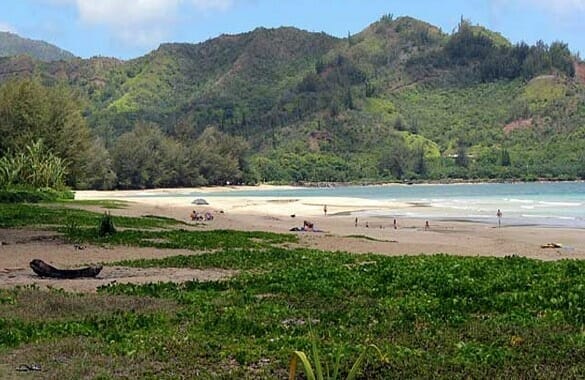 Waioli Beach Park is a prime spot for surfers and body boarders, and when the waves are at their height it can be fun for those who love water sports. During the winter season, the beach's waters are best for experienced surfers who are ready for the challenge. Waioli Beach is known as the place where champion surfers Andy and Bruce Irons honed their skills as youngsters, and the beach also hosts the annual Pine Tree Classic surfing contest.
This is also an ideal place to visit if you have children or are traveling with family, and the beach boasts volleyball courts, picnic areas, shower and restroom facilities, and waters near the sand where smaller kids can safely wade and play. You could easily spend the better part of an afternoon there because of its convenient facilities, large grassy lawn nearby, areas where adults can relax, and the beach's proximity to quick bites. In addition, Waioli Beach has two lifeguard stations.
As you walk among the pines, you'll find nice little spots to lounge on the sand and simply take in the scenery, awe-inspiring mountain backdrop, and wildlife around you; viewing the native flora and fauna from the beach is a refreshing and memorable experience. If you'll be in Kauai and want to check out a fun and sunny area with plenty to see and do, plan to spend a day at Waioli Beach.