As a Poipu Beach seal, I am surprisingly in the know on Kauaian beach weddings. But then, why should it be a surprise? I have seen my fair share! I've shared advice before regarding the best beach bride attire. What about the groom? We can't overlook the other half of this equation. Many grooms go for the classic tuxedo. Still, if you're planning a beach wedding, there are a few options you should consider if you want to make your day more comfortable.
1 – Forgo the jacket.
There is nothing that makes you feel more claustrophobic than layers and, on a hot Kauaian afternoon, you just don't need them. You can still look formal and handsome in a crisp white shirt and tie or bow tie. If you are still feeling too informal, add a light vest to the assemble and you are good to go.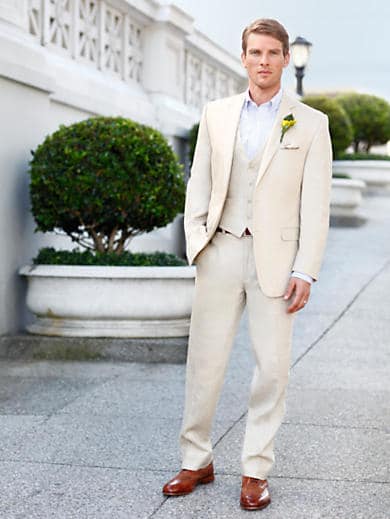 2 – Choose a linen suit.
Linen is the best kind of fabric for any island event. It breathes and flows while still appearing crisp and formal. Linen suits are light and can easily be packed. Remember to plan on ironing the suit if you bring one over yourself. As you see your beautiful bride walk down the aisle, you'll be able to feel the breeze at your back and be grateful it is keeping you calm.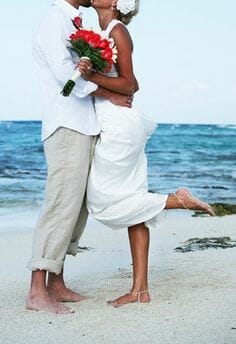 3 – Shoes? Who needs them.
When you're on the beach, do as the locals do – forget shoes! Being on the beach is such a sensory experience. Sand between your toes is part of this equation. You will feel more comfortable and truly feel you are embracing your destination wedding. Plus, the last thing you need is to be cleaning out sand from your new pair of formal, leather shoes you brought across the sea.