Kauai is well known for its incredible natural landscapes, lush greenery, and epic beaches. Because there are so many beaches in the Kauai area it can be difficult to choose one to visit, especially if you're a family with children. Fuji Beach is a great option for families who want to relax, kite surf, take a swim, or simply have a nice picnic on the sand.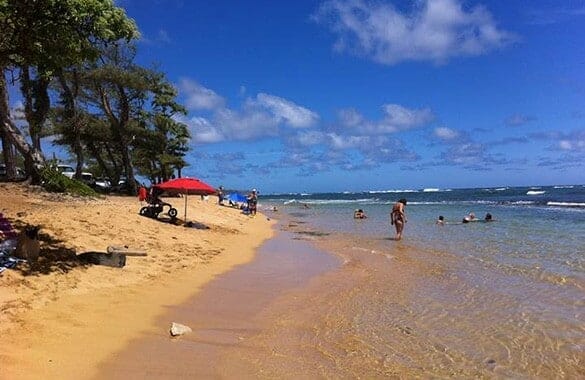 Fuji Beach is also known as Baby Beach. It's about one mile long and is situated at the start of Kauai's Coastal Path in Kapaa. Fuji Beach is an excellent beach for children and anyone who isn't a great swimmer, as the waters are fairly calm and protected. Even babies and toddlers can enjoy wading and splashing around in the reef's shallow areas. Advanced swimmers, divers, and kite surfers can venture beyond Fuji Beach's reef and spend hours having a great time. Kite surfing is especially popular at Fuji Beach with residents and visitors alike, and riding the waves here is an experience like no other.
If you enjoy boating, you'll find it convenient that Fuji Beach has an adjoining canal, the Waika'ea Canal, and is located close to Lihi Boat Ramp. In addition to water sports and activities, Fuji Beach offers the opportunity to go biking or walking along Kauai's Coastal Path. There's nothing like strolling by Kauai's beautiful blue waters and simply taking in the island's surroundings.
Fuji Beach is not a tourist heavy area, so if you're looking for a setting that's inviting, peaceful, and made for relaxing, this beach is definitely worth a visit. One issue that many families are concerned about is having easy access to restrooms and other amenities, and Fuji Beach has several that are easy to spot. You'll find picnic tables for having a beachside meal, drinking fountains, shaded areas perfect for relaxing and enjoying the weather, and showers where you can rinse off after playing in the water.
Reaching this beach is fairly easy, and it's highly visible while driving along in Kapaa. To experience a slice of Hawaiian paradise and spend the day in a laid back setting, head to Kauai's Fuji Beach.