Kauai is the perfect place to go if you're looking to lounge on the sand, relish warm and gorgeous weather, or go beach combing. Listed among the island's top beaches on Kauai's North Shore is Haena Beach, which offers an incredible mix of beautiful views and big waves. Also known as Haena Beach Park, this is a favorite spot with locals and visitors alike.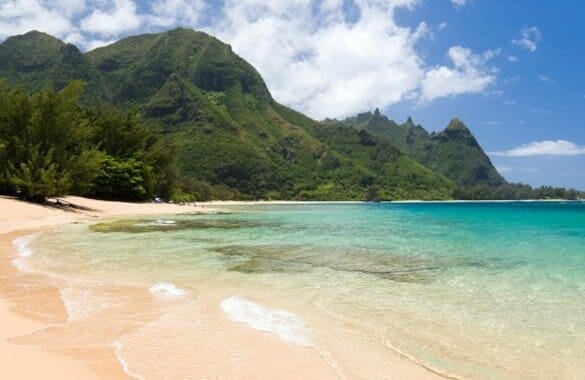 One of the most noticeable and outstanding things about Haena is the color of the water there. Few places can boast of such pristine ocean complimented by beautiful scenery. The crescent shaped beach also has towering mountains nearby and a tropical jungle landscape right beside it. The sight is reason enough to visit, but Haena Beach is also a prime place to enjoy a variety of water sports.
There's an abundance of interesting marine life and fish making snorkeling here a fun adventure. When the waves are calm, swimmers of all experience levels are safe and welcome, but during winter the waves surrounding the beach get considerably larger. Though these aren't ideal swimming conditions, the winter months bring another exciting thrill to Haena: surfing. Even if you're not a surfer, watching experienced surfers take on the waves is an incredible experience, and it's quite common to see spectators lining the shore.
Of course, Haena's scenery creates a lovely place to have a picnic, walk along the water, or watch Kauai's awe-inspiring sunsets. You can go camping at Haena Beach Park, just be sure to get a permit first. There are many convenient facilities available at the beach including equipped camp sites, showers, and restrooms. This is a lifeguarded beach, which is a plus for many parents who are visiting with young children or inexperienced swimmers.
You can easily spend a day trekking around the sand, playing in the water, and discovering nearby attractions. Right across the street from Haena is the Maniniholo Dry Cave, a popular site that's worth taking seeing while you're in the area. There are also cafes and food trucks nearby, so you won't have to go far for a bite to eat. For a beautiful spot to enjoy all of the natural wonders that Kauai has to offer, be sure to check out Haena Beach.