Kauai's beaches are famous around the world, and you'll find a huge variety on the Garden Isle. While some of the beaches on Kauai are best for experienced outdoor adventurers and are difficult to access, others are more family friendly and ideal for the casual beach goer. One such place is Lawai Beach, which is located on the South Shore and popular with residents and visitors alike.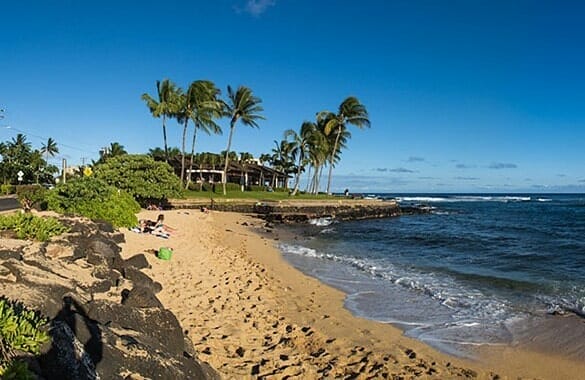 Lawai Beach, also called Beach House Beach by some locals, has a shoreline with lava boulders, small rocks, and coral shelf. There's not a ton of sand there for lounging and sun bathing next to the water, but it's a great beach to visit if you want to enjoy swimming and water sports. There's a nice grassy area close to the water's edge that's a good spot to relax and take in the sun.
Though the area is a bit rocky, it's a prime beach for snorkeling because it's so easy to access. You'll see a huge variety of colorful fish ranging from those that are very small to species that are several feet long. Turtles are also commonly spotted by snorkelers at Lawai Beach, and you're sure to see sea urchins as well. Depending on the time of year you visit, you may get to see Hawaiian monk seals. It's a very rare sea mammal that's native to Hawaii and highly endangered — remember not to disturb or try to touch them if you get a chance to view these incredible animals.
Beginner and intermediate surfers frequent Lawai Beach, including children and teens who are just learning the sport. If you're looking for a greater challenge, go further from the shore to catch bigger breaks. One of the best things about surfing, snorkeling, or just walking around Lawai Beach is its gorgeous backdrop. No matter where you turn, the view is beautiful and well worth stopping to fully appreciate.
There's no lifeguard at Lawai Beach, so it's important to remember to be cautious when tides are high or currents get rough. There are restroom facilities available, and plenty of grass and shady trees to enjoy a picnic or let the kids run and play. For a fun day by the water, stop by Lawai Beach the next time you're on Kauai.