The "Mrs." and I are always encouraging our seal puppies to play in waves – "Go! Swim! Explore!" But sometimes, we have to remind them that, while some waves can be used as play things, others are only for watching. Such is the case at Lumahai Beach.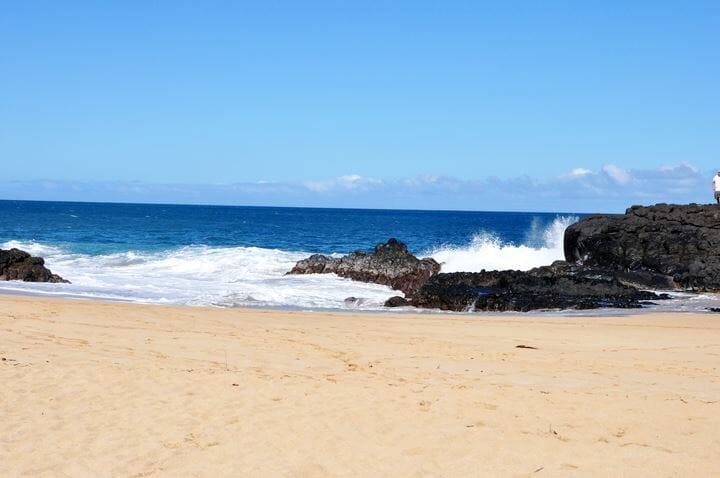 Lumahai Beach is located on the north shore of Kauai with direct and open access to the ocean. First, for the bad news: this open ocean access makes the surf rough for most of the year. The strong rip tides and steep angle of the beach and create dangerous conditions for swimming and surf sports. Swimming out from Lumahai Beach should be avoided, especially during winter months when the surf and current are more tumultuous. Now, for the good news: you will not find more picturesque views from the beach anywhere else on the island. The beauty of Lumahai Beach is revered and recognized considering the beach was featured in South Pacific. The white sand and clear, blue water make for a post-card worthy scene that is only further enhanced by the surrounding black lava rocks. The view alone makes this beach a favorite among tourists, especially those wishing for a quiet, uncrowded afternoon.
Ultimately, Lumahai Beach is a must-see if you are visiting the north shore. Make a day of it and take the family kayaking, surfing, or body boarding at Hanalei Bay followed by a relaxing walk along Lumahai Beach, taking in the beauty on Kauai can offer. You'll be happy you did.
Logistics: dirt parking, no facilities, no lifeguard.
Directions: take Kuhio Highway (HI-50 E to HI-56 N to HI-560 W) to Hanalei (north shore). Lumahai Beach is just west of Hanalei Bay.
If you do choose to swim off of Lumahai Beach, read these instructions from a seasoned swimmer first.