You've experienced Kauai from the ocean and on land…but have you ever considered exploring the island from the sky? Helicopter tours are a great way to take in the breathtaking aerial views of the "Garden Island" that can be captured in no other way. Waterfalls, lush, tropical canyons – you'll see it all! If you're traveling with your family, consider booking a flight with Safari Helicopters; comfort and safety are their goals – two things you won't want to be without when you're flying above 1,500 feet in the sky.
Comfort
Safari Helicopter Tours use only the most up-to-date flying gear. Their helicopters come equipped with "mega windows" that allow for maximum visibility. This means that even those sitting in the middle will feel like they've got a window seat. Each helicopter can fly up to 6 passengers, each of whom will be given a set of Bose headphones, allowing them to communicate directly with the pilot. Any questions you ask, along with their responses, will be included in the personalized video of the tour (available for purchase after the flight for $30). While flying, the helicopters are air conditioned, which, combined with the smooth maneuvering of experienced pilots guards against motion sickness.
Safety
Though some tour companies offer tours in helicopters with no doors, Safari Helicopters values safety above all else. This value has paid off: after 22 years of business, their track record is perfect – no accidents. The operators are vigilant about following the highest of safety standards set out by the Federal Aviation Administration. Safari Helicopters uses top-of-the-line A-Star equipment. Each aircraft is robust and never flown to full capacity in order to give the pilot options in an emergency situation. In their own words: "Safety first, then an exciting and unique helicopter adventure is next."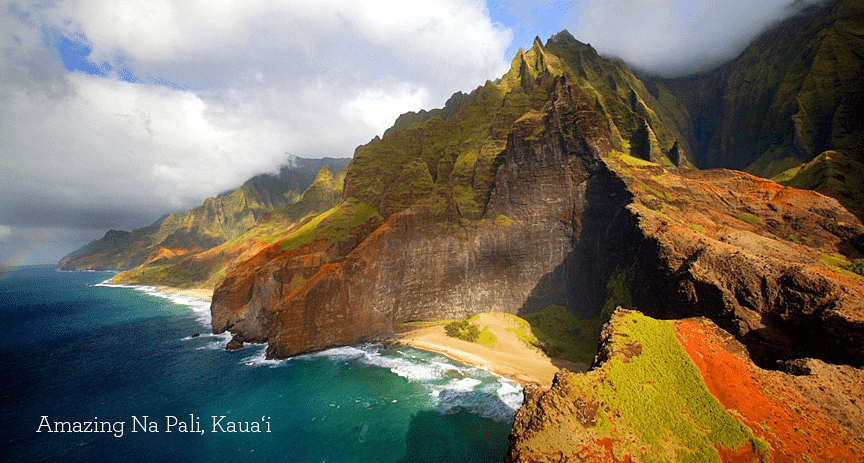 Reviews
But don't take our word for it; Safari was voted the Best of Kauai three years in a row! They were also awarded 10 stars by the Hawaii Helicopter Operator's Association—the highest ever awarded (more qualification here). In the words of a customer from Albany: "As far as I am concerned – this is the only helicopter tour company I would use…As a captain for a major airline I am quite particular about who I trust with my family on board." (full review)
Children under 24 months are allowed at no cost, but must sit on their parent's lap (allowed, though not encouraged).
As a Poipu Beach Seal,  I have the luxury of exploring the island through my ocean habitat. However, as walking, talking human beings, you can experience Kauai from the air. Am I jealous? Maybe a little. So take advantage of the opportunity you have to explore the entire 80% of Kauai that is uninhabited. You'll quickly see why Kauai is the number one location in Hawaii for adventure.
Safari Helicopters offers two tours:
60 minutes: includes Waialeale Crater, Waimea Canyon, and the Napali Coast. $229.00 in person or $189.00 online.
90 minutes: includes Waialeale Crater, Waimea Canyon, and the Napali Coast, PLUS the Botanical Preserve Landing. $279.00 in person or $273.75 online.
Book tours here.
Contact: (800) 326-3356
More questions? Visit the FAQ section of their website.