One of the best parts about Kauaian beaches is that you can enjoy them year round. Even in the winter people flock to the sandy retreats around the island, especially Waimea Beach. This particular destination is special because of its big waves during the winter season, its scenic surroundings full of quaint cottages, and gorgeous black sand all around. If you're looking for a spot to enjoy the outdoors in Kauai, Waimea beach is the perfect place to go.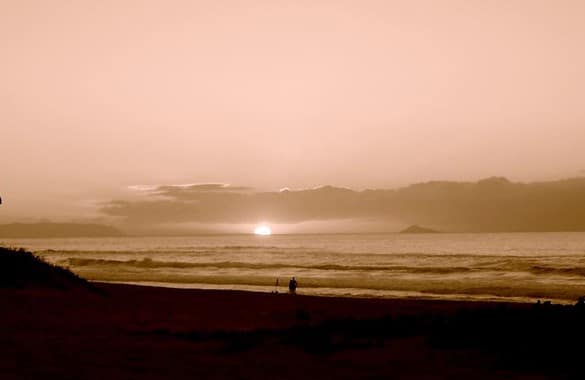 It's located on the west side of Kauai close to the Forbidden Isle, and the most noticeable thing about Waimea Beach is its black sand, which is a rarity. Another feature that distinguishes it from other beaches are the rows of plantation cottages along the waterfront that provide an idyllic backdrop and give the area an irresistible charm.
If you're a fan of taking nature walks, there's plenty to see there. In addition to magnificent banyan trees and coconut palms dotting the beach, you can view sea turtles and dolphins from the shore depending on the season. Waimea is also a great place to catch the sunset. The views are beyond picturesque and are breathtaking whether you're taking a romantic evening stroll or enjoying some solitude on the sand.
Those interested in water sports and fishing will find that Waimea Beach is a prime spot, especially in the summer when the surf is more calm. The winter brings much larger waves that attract expert surfers looking for a challenge, as well as spectators who cheer them on. Remember, Waimea Beach does not have any lifeguards on duty, so it's important to be careful when heading into the waters when the waves are at their strongest.
When many think of going to the beach in Hawaii, they picture strolling along beautiful sand with palms blowing in the gentle breeze, a refreshing drink in hand. That's exactly the type of experience you can expect to have at Waimea Beach, cool beverage included. It's a popular spot with locals and visitors, but it doesn't get so crowded that you can't enjoy your time there in peace.
Some of the amenities there include picnic table and restroom facilities. There are also several vendors within walking distance where you can get snacks and quick bites to eat. This beach is great for singles, couples, and  families visiting with children as well. The next time you're on Kauai looking for a fun outing, visit the beautiful Waimea Beach.