Many visitors to the Kauai area are surprised to find a huge variety of different restaurants and eateries. Although you can get everything from authentic Italian to classic southern style comfort food, the stars of the island's culinary scene are the venues that serve Hawaiian fare. One of the top restaurants in the area for Hawaiian food, great drinks, and a fun atmosphere is <a href="Keoki's">Keoki's Paradise</a> in Poipu Shopping Village. If you ever find yourself hungry or wanting a family friendly place to dine, you should definitely take a trip over.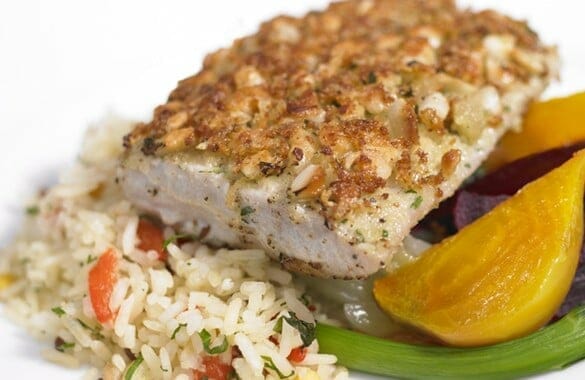 The restaurant features an exterior facade of a tiki vibe with an interior to match. This is a place that's full of charm and character, and the decor definitely sets the mood. On the menu is a selection of fresh and delicious specialties, most of which are classic Hawaiian dishes and those inspired by island flavors. You'll find miso scallops, sashimi, glazed lobster tail, and Kushiyaki, which is chicken breast and beef tenderloin marinated in Teriyaki sauce.
Keoki's Paradise also serves prime rib, filet mignon, and premium cuts of meat. The bar menu contains a selection of excellent drinks including several variations on the classic colada and Mai Tai. The Kauai Tai contains Koloa Gold and Dark rums, passion fruit, pineapple, orange and guava juices, combining for the perfect sip. The Mala Rita and Lava Flow are other customer favorites, and the restaurant has a nice selection of red, white, and sparkling wines as well.
If you still have room for dessert, don't miss out on Keoki's Hula Pie and house made tropical sorbets. The original Hula Pie with a chocolate cookie crust, macadamia nut ice cream filling, and topping of whipped cream, hot fudge, and toasted macadamia nuts is wonderful. The salted caramel and mint chip variations are also well worth a try.
Along with the high quality of food, the friendly service is part of what makes dining at Keoki's Paradise so enjoyable. You can visit every day of the week without a reservation, or you can make one online at Open Table — the latter is especially recommended on Fridays and weekend nights. For an island style dining experience that you won't soon forget, visit Keoki's Paradise the next time you're on Kauai.