Due to its distinct topography and lovely weather, many visitors to Kauai enjoy golfing while on the island. If you like to golf, check out Kiahuna Golf Club. Designed by renowned architect Robert Trent Jones II, Kiahuna combines Hawaii's natural beauty and legendary history with all the amenities one could hope for in a top-notch, contemporary golf course.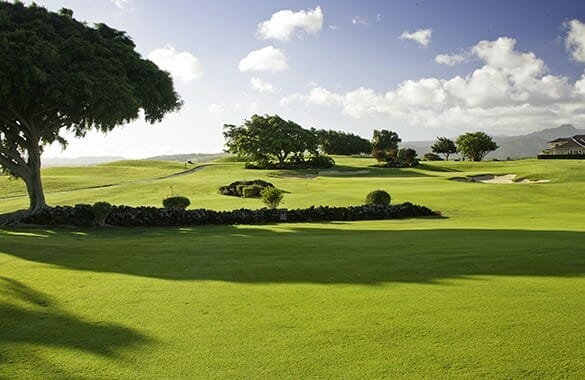 Set in Kauai's ancient Polynesian landscape, Kiahuna Golf Club's 18 holes provide a challenging course. Anyone who wants to take in the lush greenery of Kauai while enjoying the sun and a bit of exercise will have a great time at Kiahuna. This is one golf course that the whole family can enjoy. In addition to featuring a gorgeous backdrop, Kiahuna serves as a sanctuary for many endangered species native to Kauai, including the Nene (Hawaii's state bird), the Moorhen, and the Hawaiian Stilt. With all that Kiahuna Golf Club has to see and experience, their rates are definitely a good value.
A convenient service that Kiahuna Golf Club offers is mobile tee time booking. Wherever you are, 24/7, you can reserve tee times from your computer, smartphone, tablet, or any other mobile device. Furthermore, golf enthusiasts will be quite impressed with Kiahuna's well-stocked golf shop, which features premium brands such as Oakley, Callaway, and Titleist.
For a bit of nourishment after getting in a few rounds of golf, nothing beats Joe's on the Green. The eatery serves up dishes such as fresh gourmet burgers, crab cakes eggs benedict, coconut shrimp, and Kalua pork sandwiches. Don't miss the live music from 5:00-7:00 pm Sunday through Thursday, or the happy hour specials from 3:00-6:00 pm.
One of the best things about Kiahuna Golf Club is their staff, which embodies everything that's wonderful about Hawaii's hospitable vibe. You'll find no pretentious attitudes here, only knowledgeable people who are committed to making their guests feel welcome. You and your family will definitely have a memorable time at Kiahuna Golf Club — don't be surprised if you find yourself going back multiple times while you're in Kauai.