As the weather cools and you start to dream of beaches and sunshine, make the dream a reality and plan a family vacation to Kauai! Kauai is more than just a romantic place for couples, it's also a wonderful island to host your entire family, especially with all of the recreational activities available. This week, we're talking about tubing – something the entire family, young and old, can enjoy.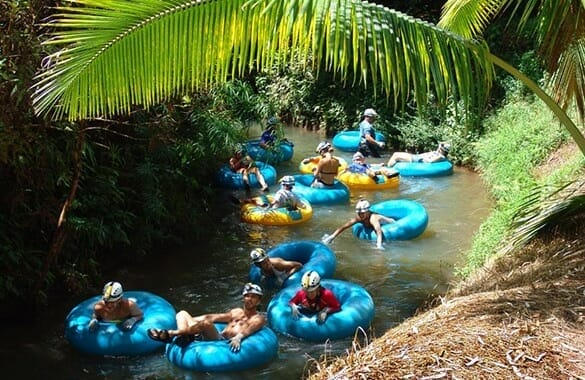 There is nothing better than taking the family and finding that perfect spot where you can float down the river or challenge yourself with some incredible rapids. If this sounds like the perfect sport for you, check out Mountain Tubing with Kauai Backcountry Adventures.
Your mountain tubing adventure will take you through some amazing scenic areas that you can't get to by vehicle, such as tunnels that have been cut through the hills by the river, secluded lagoons where you can enjoy swimming, and an enchanting picnic area surrounded by emerald green vegetation. You will be tubing down a river that is privately owned and is exclusively operated by Kauai Backcountry Adventures. The river used to feed the irrigation needs of the Lihue Sugar Cane Plantation, but when they closed down, an exclusive agreement was made to allow mountain tubing to operate tubing excursions down the river.
The Mountain Tubing Adventures are $106 per person for anyone age 5 and older. Tubers must be at least 43 inches tall and weigh no more than 300 lbs. Any children under 16 years of age must have an adult with them while tubing down the river. Be sure to bring a hat to protect you from the sun as well as sunscreen along with bug repellent, towels, a change of clothing, swimsuits or clothes you don't mind getting wet, and water friendly shoes. Mountain Tubing Adventures does have water shoes available for rent. Cancellations must be received no later than 24 hours prior to the event and for groups of 6 or more, it must be at least 72 hours prior.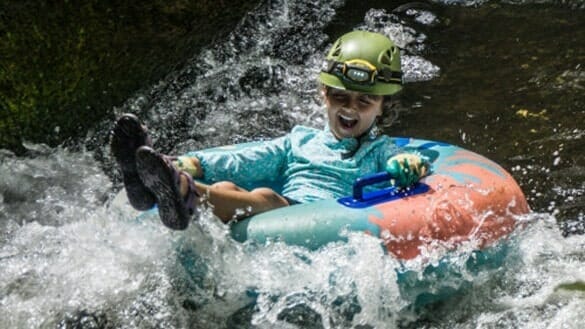 Your tubing adventure will last for three hours and the first tour of the day starts on the hour beginning at 8am with additional tours beginning at 9:00 am, 10:00 am, 12:00 pm, 1:00 pm, and 2:00 pm. Please check in a half hour before your tour begins.
Start planning your trip today! And make a Mountain Tubing Adventure part of your itinerary. You won't regret it.