Hula is the dance of the Hawaiians islands. Though the dance has been made  pop symbol of the islands – popularized through plastic dashboard dolls whose hips shake as you drive – the hula is deeply entrenched in Hawaiian tradition. It is through the dance that stories of love and romance, rooted in Hawaiian tradition, are told.
Though Hollywood has minimized the dance to a few hip swayings, the hula is quite challenging! Don't ask me to show you how it's done. Have you ever seen a monk seal do the hula? Thankfully, neither have I. However, I do have some friends that are willing to teach you and your family the legendary Hawaiian dance…for free.
Places For Free Hula Lessons for Everybody
If you and your family are looking for a hula show and a hula lesson, all for the price of, well, nothing, look no further than a couple of shopping malls close by.
Bring the family and enjoy a lively show, then volunteer when they ask who wants to learn.
You'll be surprised at how challenging learning the hula is! Plus, this is a great way to embarrass your kids, and who doesn't want that?!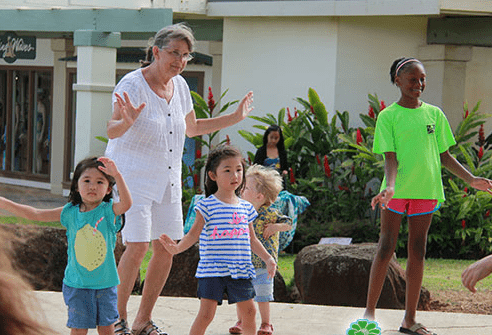 Coconut Marketplace offers a free hula show twice a week (Wednesdays at 5:00 pm / Saturdays at 1:00 pm). Comeback Friday night at 5:00 pm to enjoy Larry Rivera, a renown, award-winning, local artist, serenade the crowd.
Location: 4-484 Kuhio Highway, Kapaa, Hawaii 96746
Contact: (808) 822-3641
Hours: Monday – Saturday 9:00 am – 9:00 pm / Sunday 10:00 am – 6:00 pm
Hula show: Wednesdays at 5:00 pm and Saturdays at 1:00 pm
Poipu Shopping Village offers a free hula show every Monday and Thursday at 4:30 pm. Keola Worthington, a renown Hawaiian musician, accompanies the beautiful dancers.
Location: 2360 Kiahuna Plantation Drive, Poipu, Kauai, Hawaii 96756
Contact: (808) 742-2831
Hours: Monday – Saturday 9:30 am – 9:00 pm / Sunday 10:00 am – 7:00 pm
Hula show: Mondays and Thursdays at 4:30 pm
The hula is a beautiful dance that tells a story, and there are different types of hula that correspond to different types of stories. The most popular type of hula is the hula kahiko, which is a traditional dance that tells ancient Hawaiian stories. There is also the hula 'auana, which is a more modern dance that tells stories of love, romance and more contemporary themes.
Family Hula Lessons are the perfect way to experience the culture and tradition of Hawaii. Not only will you learn about the different types of hula, but you'll also get to experience the joy and happiness that comes with doing the hula. And what's more, you'll get to bond with your family and create lasting memories that you can all cherish for years to come.
So what are you waiting for? Book your Family Hula Lessons today!