While the diet of a Poipu Beach seal like myself is rather bland, you humans are incredibly fortunate to have access to real Kauaian fare. Coconuts, poi, pineapple – each an essential part of the Hawaiian experience. Surrounded by such delectable cuisine, why not make it part of your Kauaian adventure? At the Villas at Poipu Kai, you have access to a fully stocked kitchen and – what's more – an outdoor grill so that you and your family can eat and relax poolside. And when I think of Kauai and grilling, I think of pineapple, juicy and charred, grilled to perfection. Is your mouth watering yet? Here's a recipe to get your started.
First of all, slice your pineapple. You can do this many ways depending on how you want to eat your pineapple. If you are serving it as a side dish, I recommend peeling it with a knife and then cutting the fruit in spears around the core. If you are garnishing burgers or pork sandwiches, peel the pineapple, core it, then cut it in slices perpendicular to the core.
Second, preheat your grill to high heat, then brush it with oil.
Third, dress your pineapple. You may choose to either marinate the pineapple with honey, melted butter or olive oil, and maybe even a dash of hot sauce. Or you  may choose to simply brush it with butter or olive oil right before grilling and let the fruit do all the work. Either way, you will want to dress your pineapple with an oil so that it doesn't stick to the grill.
Fourth, grill your pineapple. Place each spear or slice directly on the grill so you can get those beautiful and delicious char marks. You'll want to grill each side for 2-3 minutes or until it starts to brown/char.
Fifth, enjoy. Drizzle your pineapple with honey (if not used for the marinade) or just sprinkle a little salt to balance the sweetness. How you enjoy your pineapple is up to you.
Trust me on this one, your family will thank you. The moment they bite into that juicy slice of warm, charred pineapple, you'll never see fruit the same way, or Kauai for that matter. When on the Garden Island, make food part of your experience!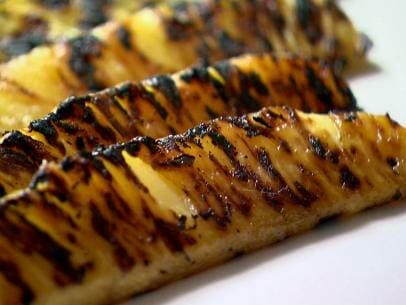 You can find a few different recipes online from sites like allrecipes.com or the Food Network.