Happily, you can find just about every type of cuisine imaginable on Kauai. But if you want to eat like a local, you should head to a place where the food is delicious, the service is warm, and the atmosphere is friendly. One little eatery on Kuhio Highway meets all these criteria while providing an excellent value: Java Kai.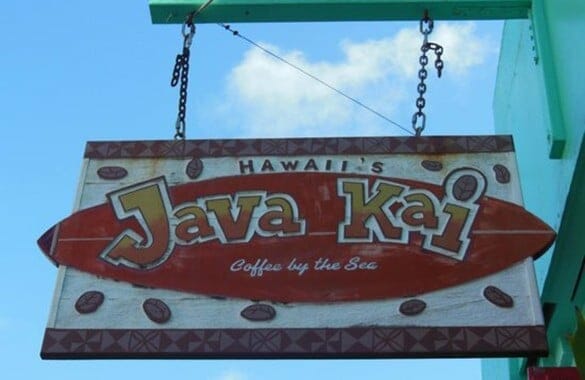 When you look at the exterior of the restaurant, you'll have a good idea of the laid-back vibe that awaits you inside. The vibrant colors and fun styling — including a whimsical sign that you can't miss — are definitely befitting of Java Kai's comfortable, relaxed vibe. Once inside, the smell of fresh roasted coffee will draw you to the drink bar. Java Kai's beverage menu features carefully roasted coffee from various origins, including Indonesia and Nicaragua, but its Kona coffee really shines. No Kauai coffee shop could dare claim to be serious about brew without offering native Hawaiian coffee beans, and Java Kai seriously gets theirs right. It's smooth, flavorful, roasted to perfection, and very satisfying.
In addition to coffee drinks, Java Kai makes fresh juices and smoothies from local ingredients. If you'd like something to munch with your drink, the restaurant has a nice selection of sandwiches, wraps, pastries, and healthy treats. Those who love muffins in the morning will be thrilled with the selection at Java Kai, which includes flavors such as coconut, apple-blueberry bran, and walnut carrot cake. The cafe's breakfast tacos and smoothie bowls are favorites among locals and visitors alike. Other notable menu items you'll find include the Kalua pork sandwich, rainbow salad, and Feta Mo' Betta Bagel, which is topped with cream cheese, pesto, feta, sprouts, and tomato.
The coffee bar here is tempting by itself, but the bakery items on display make the visual experience purely mouthwatering. If Java Kai's chocolate croissants and huge cookies don't strike your fancy, the lilikoi cheesecake surely will. Java Kai also sells its freshly roasted whole beans, memorabilia, and coffee gear that you can take home to enjoy. If you want a great causal spot to enjoy some superb coffee, tasty dishes, and the company of friends, Java Kai is well worth a visit.