Kauai is a destination full of romantic adventures and excellent food, but a select few gems in the city provide both at once. Tidepools is one such gem. This restaurant has been named one of the best on the island by Zagat and Hawaii Magazine. If you're looking for a taste of Hawaii in an incredible setting, you'll want to make a reservation at Tidepools while you're in the area.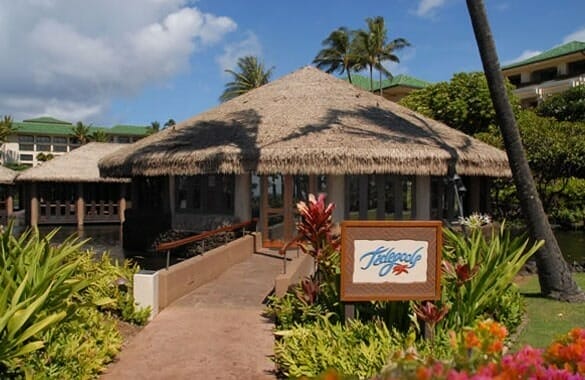 Once you step inside, you'll see why this restaurant is often noted as being romantic. The scenery right outside of the door is beautiful, and the interior has a cozy vibe with an island flair. The menu at Tidepools is comprised of Hawaiian inspired dishes, each artfully presented. The combination of flavors is intriguing: Tahitian ceviche, opah with papaya-habanero sauce, and huli chicken with pineapple kimchee, a perfect place to find something new. For those who seek familiar tastes, the restaurant offers classics such as butter poached lobster, filet mignon, and slow roasted prime rib.
Tidepools has a number of delicious ways to finish off your meal, so save room for dessert. The coconut creme brulee is a refreshing twist on a classic, and the strawberry vanilla ice cream cake's basil sauce is a pleasant surprise. Other desserts include apple cobber, chocolate lava cake, and banana-passion cream pie.
The wine list is impressive. Options include sparkling, white, and red wines from all over the world. Tidepools' selections from New Zealand are particularly nice, as is the wide variety of reds. The cocktail menu is upscale and innovative, just like the rest of the restaurant's offerings. You'll find tasty and original creations such as Tidepools' Pineapple Julep, Surfer Girl, and the Tai Chi, which contains a mix of spiced rum, coconut rum, pineapple and orange juices.
Even the kids menu at Tidepools is upscale, with options such as chicken and pineapple skewers, filet of beef, and grilled mahi mahi. Reservations to the restaurant can be made online, which is definitely a convenient feature. If you're looking for a restaurant in Kauai with fresh and excellently prepared food, fabulous views, and an enchanting ambiance, make Tidepools your first choice.