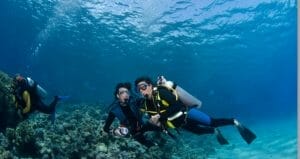 Kauai scuba diving is a perfect adventure to embark on, whether it's day or night. There's plenty of reasons to go scuba diving on Kauai, and depending on your preference, you can do anything from shore dives to boat dives. While scuba diving in Kauai you will see native fish that can be found nowhere else on the planet. Enjoy the warm waters of Kauai's ocean in safety with trained instructors. Get PADI certified or simply go for recreation with a group. Book your reservations for your convenience from a wide variety of locations to discover the wonders of sea life in the Pacific.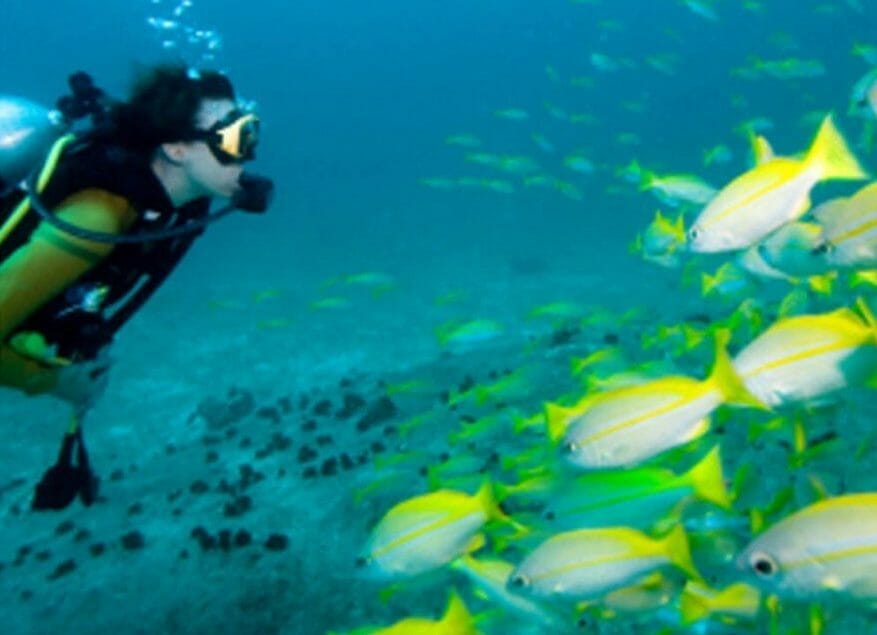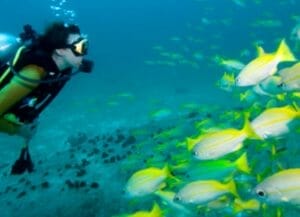 Now that scuba diving euquipment has become more efficient and better, it has become easier and more accesible than ever. You can experience marine life like never before and discover the beautiful treasures of the ocean while scuba diving in Kauai.
Contact Stephanie at KauaiByStephanie.com to set up your personalized itinerary and book all the activities you would like to enjoy. You can see a sampling of what is available through our preferred providers listed below.
Kauai Down Under is a full service scuba dive company located 5 minutes from the Villas at Poipu Kai. For certified divers, Kauai Down Under is the best option to explore Kauai's reef system on the south and north shores. All scuba diving equipment is provided by Kauai Down Under, including a full body wet suit, tanks, etc.. Beginner divers can be certified through the PADI Discover Scuba Diving program – the entire certification process will be provided by Kauai Down Under. No matter your level of experience Kauai Down Under is the place to scuba dive in Kauai. You can contact them at www.kauaidownunderscuba.com or call 808-742-9534.

Dive Kauai has long been a classic scuba dive site for adventure vacationers. Located in Koloa just 5 minutes from the Villas resort. Dive Kauai offers spectacular dives at Tunnels on the North shore, Ahukin Landing on the East Shore, and Koloa Landing on the South Shore. All three locations offer unique aspects of Kauai's rich marine life. The range of dives matches the range of divers experience and all divers are welcome at Dive Kauai. Check out their website at www.divekauai.com
North Shore Divers is a trusted Scuba Dive company in Kauai. Specializing in dives along the tropical north shore of Kauai, this is an activity you don't want to pass up. They specialize in all sorts of dives and can tailor them to your liking. See large sea turtles, lava tubes, and an array of sea life. Even go on a night dive if you are up to it. North Shore Divers is the place to start your diving expedition in Kauai. Call them at 877-688-3483 or check out their website at www.northshoredivers.com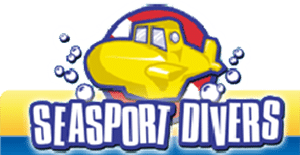 Seasport Divers is a multiple Rodale's Readers Choice Award Winner. They were Voted #1 on Kauai, #5 in the Pacific and Indian oceans. They also rate as one of the 10 Best Scuba Diving Operators in the US, with a straight "A" rating. Seasport Divers is the only scuba Diving Company on Kauai with multiple locations one in Kapaa and one close to the Villas in Poipu. All of our scuba diving tours on Kauai are guided tours led by PADI, SSI, or NAUI diving instructors. The scuba diving tours are small groups and all like divers are grouped together. If you do not have a scuba diving buddy while diving on Kauai, we match you up another scuba diver or you can be the instructors official scuba buddy. Give them a call today: Kapaa – (808) 823-9222 Poipu – (808) 742-9303