Looking to escape the falling leaves or threatening snow of your home city? The  Thanksgiving holiday offers a perfect opportunity to get away and experience some warmth and relaxation. Even an ocean away from the mainland where Pilgrims first set foot, you can still enjoy the traditional, American Thanksgiving festivities – you'll just need some sunblock. Trust your fellow Poipu Seal, the water is great this time of year!
For the next two weeks, I'll be posting a few ideas that will help you and your loved ones enjoy Thanksgiving, Hawaiian style.
Thinking in advance, you will want to plan ahead and find a local Thanksgiving Day activity to remind your family that you are in Hawaii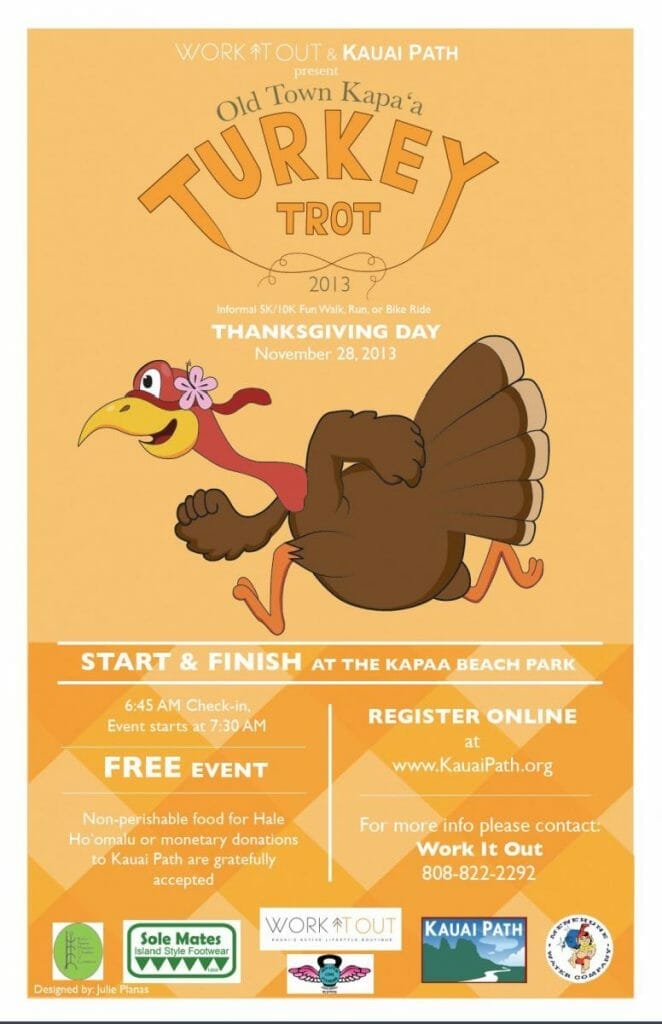 Thanksgiving Day looks different to everyone. For some visitors, lounging all day at the beach is a perfect way to spend the holiday. For others, Thanksgiving Day is not complete without getting out and finding a Turkey Trot or Turkey Bowl. From my experience, every island, Kauai in particular, has great Thanksgiving Day festivities for any age or group. Just google "Thanksgiving 2013 in Kauai" (or whatever island you've chosen) and an array of options will appear. Want to get a Turkey Day workout in before eating your feast, join locals in Kauai for the annual Kapaa Turkey Trot along the Kauai Path. Enjoy an early holiday celebration on Oahu at the annual Holiday Kickoff and Tree Lighting(read more info here). These and many more events are there at the click of a button. So check them out! And let your Hawaiian holiday begin.