Kauai is the perfect host for any kind of water sport or outdoor adventure you can think of. From surfing and sailing to scuba diving and body boarding, you'll be hard pressed to find a more beautiful and scenic place to enjoy the water. Snorkeling is also immensely popular in Kauai among visitors and locals alike, and the experience there is incredible. The best way to snorkel without the expense of investing in the right gear is to rent it from a company such as Boss Frog's.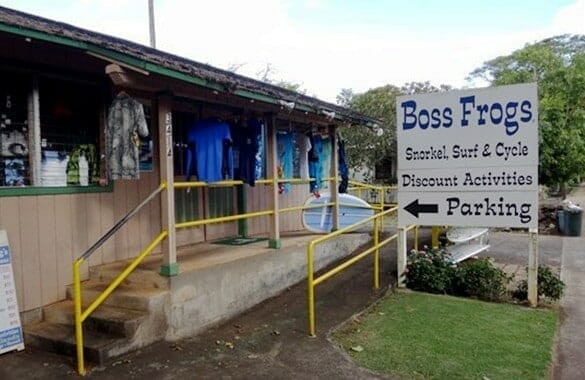 Boss Frog's got its start in 1989 as a small family owned shop that only sold snorkeling equipment. Today the company has expanded, but it's still family owned and staffed by people who are passionate about providing their customers with excellent quality gear at good prices.
One of Boss Frog's most popular rental packages contains everything you need to snorkel, including fins, a face mask, and snorkel tube. You can even pick up a some great safety tips from Boss Frog's before heading out, and the company offers very helpful ocean safety videos on its website. To make finding the best snorkeling spots around Kauai easier, don't forget to check out Boss Frog's free snorkeling maps.
Renting equipment from Boss Frog's is super easy, and you can reserve your gear online or go into one of their local stores. The prices are very reasonable, and the staff at each location is knowledgeable about water sports and the equipment they have on hand. If you need help picking out the right gear or you aren't sure of your size, just ask and they'll be glad to help you out.
In addition to snorkeling equipment, Boss Frog's rents surfboards, golf clubs, paddle boards, beach chairs, bikes, beach umbrellas and coolers, and body boards.. To capture great footage of your time out on the water, you can even rent an underwater digital camera. Rentals are available by the day or the week, giving you plenty of flexible options. The next time you want to hit the beach and explore the waters of Kauai, stop by Boss Frog's to rent the best gear on the island.