Destination weddings are wonderful for so many reasons: they are intimate, they are exotic, and, most important, the are at a DESTINATION! Which, if we are completely honest here, is a huge pull for your wedding guests. Who would deny the opportunity to support a friend on their big day, especially if that big day happens to take place on the island of Kauai? I know my friends wouldn't…but they don't have much of a choice considering that we are lucky enough to call Kauai our home.
Of the countless reasons to choose Kauai for your destination wedding (see this post), the most enticing may be that the "Garden Island" hosts dozens and dozens of activities that your guests can enjoy. Planning a wedding is stressful enough, you shouldn't have to worry about your guests and their travel experience. With all there is to explore on the island, you and your partner can rest assured that those you love who have flown across the ocean to support you will be happy they did.
Of the many activities to choose from, I recommend touring the Na Pali coast. The Na Pali coast is located on the north-west side of Kauai and is the only stretch of coast that is not traversable by car, leaving the coast wild, exotic, and mesmerizing. While many choose to hike the coast, it is even more majestic to enjoy it from the water. Catamaran tours are available from an array of companies, but we recommend Capt Andy's tours as the best and most accommodating – exactly what you are looking for to please your guests. Capt Andy's has a fabulous offering of tours that will suit any traveler's desires.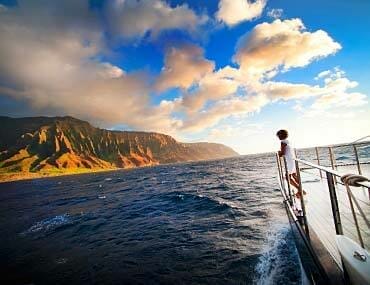 Do your guests want to take a romantic dinner cruise to watch the sunset with the Na Pali coast as a backdrop? No problem. Capt Andy's Sunset Dinner Cruise is just the ticket. Your guests can enjoy a delicious meal (menu) aboard a luxurious ocean vessel while they sail from Haena to Milolii, taking in the entire panorama of the Na Pali coast.
Do your guests want to snorkel along the coast? No problem. Capt Andy's offers two snorkeling tours, each takes you close to the coast, anchors, and gives guests the opportunity to snorkel around the reefs or stay aboard the vessel and relax. Breakfast is included and, as your guests snorkel, the crew prepares either a picnic or a BBQ, depending on which tour they prefer.
Do your guests want to make an entire day of the experience? Check out their Day Expedition which lands your guests on the secluded, hidden beach of Nuololo Kai where they can hike, snorkel, or explore the ruins of an ancient Hawaiian village from 800 years ago. Here, your friends can enjoy whale watching while they eat lunch; they may even run into a monk seal like myself!
The great part about these tours? They are reasonably priced, especially when compared to other tours you can find on the web and when considering the all-inclusive experience your guests will have. These guys rock! But you don't have to take my word for it – they were voted the best boat tour in Kauai for 6 years in a row! So, rest confident that the experience your guests have on Kauai will be one to remember.