A beach wedding. Oh, the beautiful images it brings to mind. Sand beneath your feet, breeze tugging on your veil, a sunset back-lighting your ceremony. This is perfection. If this image makes your heart soar, Kauai is just the place for you. Now, all you have to find is a beach to host this most significant ceremony. As always, I have a few recommendations.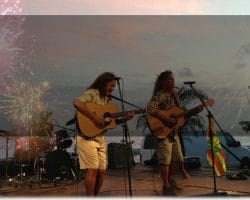 For a view of the Na' Pali Coast…
…choose Ke'e Beach. As the last beach accessible by car on the north shore, Ke'e Beach comes with its own backdrop: the Na' Pali Coast. The cliffsides that plunge directly into the sea provide a dramatic view for you, your guests, and – importantly – your photographer.
For lush scenery…
…choose the Kauai Botanical Gardens. With 12 different gardens to choose from on the north shore, you will have no problem finding the perfect location for your wedding on the "Garden Isle."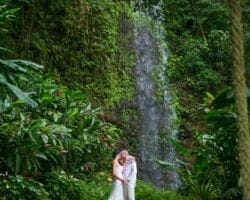 For a waterfall and intimacy…
…choose Kalihaiwai Falls. These two-tiered falls surrounded by lush greenery provide the perfect, exotic setting for your ceremony. This location is secluded and intimate. Bring a few of those dearest to you and let the falls do the rest.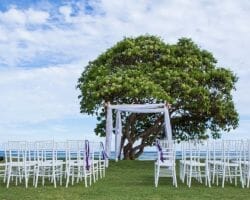 For a full ocean-view…
…choose Kauai Coast Resort on the east shore. This is a great option for a larger group (hire Hukilau Lani to help provide chairs and an arch) as there is space enough for everyone. You and all of your guests will be able to appreciate the beautiful ocean expanse while having easy access to food and drink after.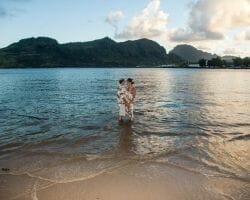 For calm seas…
…choose Kalapaki Beach. This natural harbor protects the beach from strong waves making the soundtrack to your ceremony smooth and calm. The nearby parking and facilities are also a plus.
For variety…
…choose Shipwreck Beach. You'll find sand, rocks, cliffs, and one of the largest expanses of beach on the island. This is a real favorite among wedding planners, and it is within walking distance of the Villas at Poipu Kai. Major plus.
To explore more options of where to wed on Kauai, visit this site. Some locations are free while others are private and require a fee. Do your research and see what fits you best!