I love Kauai during the slow season. Don't get me wrong, I like to see tourists enjoy my island, but a Poipu Beach Seal needs his peace and quiet every now and again.
If you are traveling to Kauai during the slower season, particularly during the winter, you may want to take the weather forecast into consideration. The slower season (November-May) has many benefits: cheaper flight options, less crowded beaches, etc. But the weather is slightly cooler and may impact which beach you decide to visit. I recommend Salt Pond Beach.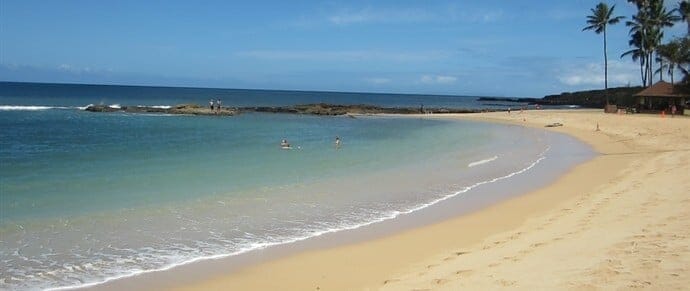 Salt Pond Beach is named for the salt collecting ponds that pop up in the area. A surrounding reef and jutted rocky ridge work together to create a calm surf, perfect conditions for snorkeling, especially during the winter. The beach can be steep at times, but is great for kids. The sand is combined with larger stones and shells, so be careful as you explore. For the fishermen and women in your family, this is a great option. Just leave your surf boards at home and enjoy the calm conditions.
The best part? This is one of my favorite hangouts! And I'm not the only one. Salt Pond Beach attracts many monk seals wanting to sunbathe or explore the shore. Be sure to wave when you come to visit
Salt Pond Beach is located on the south shore, just 30 minutes west of the Villas at Poipu Kai (map) in Hanapepe. Take Koloa Road west to Salt Pond Road, you can't miss it.
Logistics: parking and public restrooms and showers, lifeguard usually on duty.
See more reviews here.
Beware of unpredictable weather conditions. Our friends at Kauai Explorer keep tabs on the surf height of this beach and many others. Check this page for the most recent update.