Is there anything more picturesque than a wedding on the beach? I think not. As a Poipu Beach seal, I've seen my fair share of beach weddings on the Garden Island. When done right, these weddings are spectacular. If you are planning a beach wedding and want to make the ceremony perfect, here are a few tips to consider.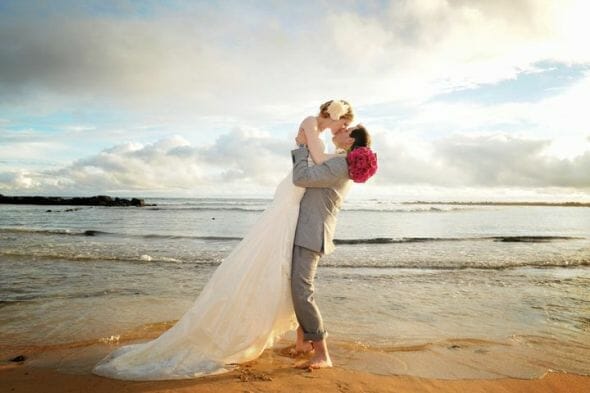 #1 Consider timing.
There is a reason why many beach wedding photos are taken early in the morning or at sunset – the temperatures are the most bearable. The last thing you want to be feeling while walking down the aisle is sweaty. Before your ceremony, do research on the direction of the sun and plan your ceremony accordingly. You want to look into the eyes of your beloved without having to squint and you definitely want your guests to listen to the ceremony without wondering when they are ever going to get out of the blazing heat. I recommend planning for early morning or at sunset. If the ceremony must be in the middle of the day, choose a shady spot so you (and your guests) can relax.
#2 Choose a photographer with beach experience.
Many people plan beach weddings for the photo value. Still, remember that beaches are tricky when it comes to lighting. Hire a photographer with experience  who knows how the sun and surf impact photo quality. We have a few recommendations here. Someone like Bob Cox would be great.
#3 Go local.
When planning your menu and flower arrangements, go local! If you're celebrating your big day on Kauai, choose dishes like poi, roast pig, and coconut. Choosing local flowers will ensure they stay beautiful and fresh throughout the ceremony and festivities that follow. Going local will not only add to the island ambiance of your wedding, it is also cost effective!
#4 Pick the perfect island attire.
For the bride, choose flowy, light fabric over heavy drapery and sandals (or bare feet) over heels. For the groom, choose linen and forgo the suit coat. Do the same for your bridesmaids and groomsmen. They'll thank you.
#5 Have a back up plan.
This may be the most important tip of all. No matter how well you plan, Mother Nature still has the final say when it comes to weather conditions. Just to set your mind at ease, rent a tent or contact a local venue close to the beach in case of inclement weather. Then, cross your fingers that you don't need to use it.
Looking for more tips? These tips and more can be found at theKnot.com, a fabulous website for more beach wedding ideas.