On an island where the options are endless, picking an activity that will suit the whole family can seem overwhelming. Lucky for us Poipu Beach Seals, our options are pretty straightforward. Still, don't let the array of choices bog you down, here are a few tried-and-true family friendly activities I'm sure your whole clan will love.
Option #1: Spend the day at Kalihiwai Beach
Kauai is littered with beaches and each offers something unique. What is so special about Kalihiwai Beach? It's nestled between two lava cliffs which provides for privacy and calm seas. The waves rise evenly and slowly as they come which creates ideal conditions for boogie boarding or running in the tide. Behind the beach, you'll find small, shallow pools where your little ones can swim, float, or fish. Older kids will be enthralled by the rope swing located within sight. Also close by is Kalihiwai Stream so bring your paddle board or kayak and make it an adventure. While the kids play, you adults can enjoy the breathtaking view of lava cliff greenery rising from white sand beach – the Garden Island at its best. If you're travelling during the wintertime, you will want to avoid the rougher surf. Even during this time, Kalihiwai Beach is the perfect place to stroll due to the firm sand. Portable restrooms are on the premise. Though, you may just want to take a short drive into town to use the facilities behind Kilauea Market, also a great place to grab lunch to-go – try the Ahi Tuna wraps…I heard they're to die for!
Location: North Shore off of Kuhio Highway, east of Hanalei Bay
Directions to Kilauea Market:take Kuhio Highway east, turn left on Kolo Road, then take a quick left again north onto Kilauea Road
More info found here.
Option #2: Walk or bike the Kauai Coastal Path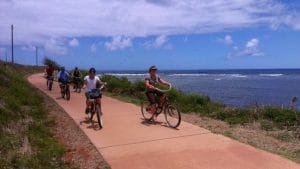 As a year-round resident, I appreciate any effort people make to preserve the beauty of the Garden Island. Perhaps that's why I love the Kauai Coastal Path so much – it allows locals and tourists to enjoy the beauty of the island without causing any damage to the surrounding area. Bring the kids and take a walk along the path! You'll enjoy stunning views of the shoreline and ocean; you may even run into a few local critters.  The path is mild and relatively flat with a slow traffic of walkers and cyclists. One day, we hope it will extend from Lydgate Park along a 9-mile stretch to Kuna Bay. For now, starts at Lydgate Park and enjoy the first few phases that meander along the Wailua Beach and the coast by Kapaa. Click here to see upcoming phases and extensions. Want to rent bikes? Visit Kauai Cycle in Kapaa, located close to the path providing an easy jaunt for the whole family. Give it a whirl and see what the Ke Ala Hele Makalae ("The Path that Goes by the Coast") is all about. Click here for guidelines that will help your family and everyone around enjoy their experience on the Kauai Coastal Path.
Location: Enter path in Kapaa or at Lydgate Park
Additional information: http://www.kauai.com/attractions/kauai-coastal-path
Option #3 – Ziplining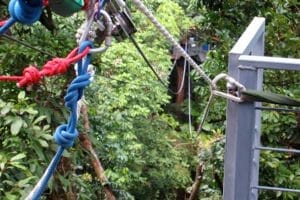 Ever felt the exhilarating thrill of freely flying? Neither have I. But ziplining may give you the closest experience to actual flight you can find anywhere! Soaring through the air while gazing out into the lush Kauaian forests or vast ocean expanse is an experience to be had by anyone of any age…so bring the whole family! Many tour companies such as Outfitter Kauai offer an array of options to choose from depending on the age group and interest. Check out their Kipu Zipline Safari that combines kayaking with ziplining for the ultimate family adventure. Feeling daring? Take a peek at their new Lele'Eono Zipline Trek that takes you through six thrilling rides from platform to platform. The pictures speak for themselves. What a way to see the island! Seals stay put in the water or on the beach. Period. But you people should try it! I hear there's nothing like it. For $100-$200 a person, it may be worth it just for the video you can bring home to show your friends.
Location: 2827a Poipu Rd. in Poipu
More recommended ziplining companies in Kauai can be found here.
As much as I enjoy swimming all day around Poipu Beach, I may just switch you places at the chance to spend an afternoon walking, biking, or ziplining around the island. Enjoy it for both of us!