The range of cuisine that you can find on the island of Kauai is incredible — it seems that chefs from every corner of the world find their way to the island. One may not immediately think of eating Italian food when visiting Hawaii, but the Kauai area has its share of fantastic Italian eateries and cafes. One that is especially popular with locals and visitors is La Spezia, a cozy restaurant and wine bar that serves homestyle Italian fare at its finest.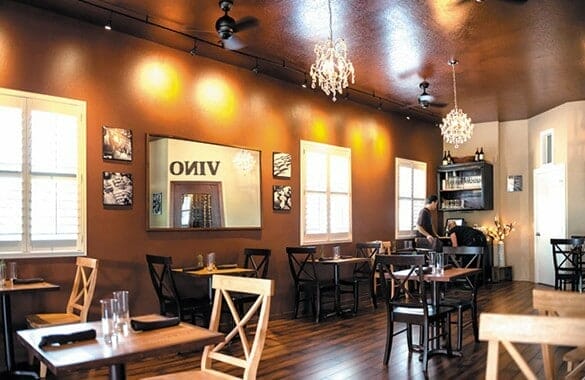 La Spezia's interior is warm, comfortable, and has a very welcoming feel. The restaurant serves breakfast, brunch, and dinner entrees that are full of flavor and well-presented. Breakfast and brunch items include the Benny Italiano eggs benedict, Caprese Fritatta, and blueberry French toast made with Hawaiian sweet bread and stuffed with blueberry mascarpone. La Spezia's dinner menu is filled with Italian classics such as house made pizza and tortellini, puttanesca, risotto, and veal scallopini. Their natural beef hangar steak is a favorite entree, and the red wine demi glaze and potato puree serve as perfect accompaniments to this dish.
The wine bar portion of La Spezia features a nice array of cocktails, wine, and aperitifs. Their specialty drinks include the Sicilian Storm, Bitter Mai Tai, and Ciao Bella, which is a combination of limoncello, basil, Fragoli Wild Strawberry, and Ocean vodka. You'll find Italian red and white wines by the glass and bottle on the drink menu, as well as white and sparkling wines from other regions. Don't forget to save room for something sweet and order one of La Spezia's desserts. The restaurant changes their dessert offerings every night, but chocolate torte and vanilla cardamom panna cotta often make an appearance.
If you plan to visit the restaurant with a party of six or more people, it's best to call ahead and make a reservation. The attentive staff are part of what makes dining at this restaurant special. La Spezia's staff are professional and very knowledgeable about the menu, which is helpful when it comes to choosing which of their many fabulous dishes to order. Prices are quite reasonable considering the level of service and satisfying portions. For a wonderful Italian style early morning meal or dinner, visit La Spezia the next time you're near Kauai.