Enjoy all Kauai has to offer: Hiking, Kayaking and Swimming to Secret Falls
As a Poipu Beach Seal, I LOVE water, and Kauai has enough to spare. How do you think we call our home "The Garden Island"? While staring out at the vastness of the ocean is awe-inspiring, you can also have just as inspiring an experience gazing into one of Kauai's many waterfalls, especially if that waterfall requires some grunt work to see. If this sounds like an adventure to you, Secret Falls may be the perfect place.
Where is Secret Falls?
Secret Falls – also known as Uluwehi Falls – is located in Wailua State park on the east side of the island. The falls are approximately 100 feet and plunges over rocks and greenery into a small pool where hikers can swim and enjoy the view.
Arriving at the falls can be quite the adventure. You will start your excursion by kayaking the Wailua River in Wailua State Park. Rental companies offer guided tours that are worth looking into (see Kauai Kayak Tours, Kamokila Hawaiian Village, Wailua Kayak and Canoe, or Wailua Kayak Adventures). Though, if flexibility is what you desire, you may prefer to paddle solo. After kayaking up the river, you will reach a fork and turn north (right). Follow this until the river ends (approximately 1 hour total) and park your canoe/kayak. Make sure it doesn't float away!
The hike begins on your left, across the river. You will want to bring sandals with traction or old hiking shoes that you don't mind getting wet as the hike will take you through mud and streams. The hike itself is mild and lasts about 45 minutes. Believe me, the effort you are expending to get to Secret Falls is worth it. The hike ends at the base of Secret Falls where you can join other hikers in a leisurely swim to celebrate your arrival.
In my opinion, this hike combines a few of the many attractions Kauai has to offer: kayaking, hiking, and waterfalls. You can experience the island by water and by land all in one afternoon while also appreciating in the breathtaking view of a towering waterfall. Trust me, you will be hard pressed to find a better way to spend your day on Kauai.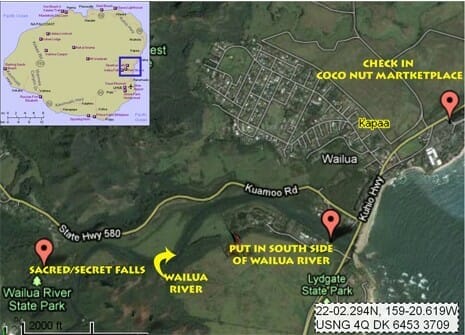 Directions via Try Kauai: At the start of Kuamoo Road in Wailua, you will turn left from Hwy. 56, you will find the Wailua River State Park on your left.  This is the launch area for all Kayakers.
Caution: bring clothes and footwear that can get wet and muddy. Streams can be high during the winter/wet months – be prepared for wading. Bring bug spray.