Planning a wedding is no small feat. Planning a destination wedding…well that's a whole new ball game. The thought of coordinating all that goes into a wedding – location, food, flowers, dresses, tuxedos, guest accommodations – from afar is enough to make some brides think twice about following through with their dream island wedding. If you are one of these brides, I have a solution for you – hire a wedding planner here in Kauai. I know just the person.
Iben Dwight of Weddings Kauai comes with years of experience. After planning over 900 weddings in Kauai, Iben has become an expert in the realm of wedding coordination. She came to Kauai from Denmark in 1998 and has made the Garden Island her home. As a resident and wedding aficionado, Iben is the perfect person to have in your back pocket during this important time. 
So, what does she offer? Iben's Kauai Wedding Package ($1,450) includes the following:
In-office planning & 1 hour on-site coordination.
Applying for applicable permits as required by the State of Hawaii.
Marriage license assistance.
Help with recommendations.
Quick email and phone responses.
Inspiration and style ideas.
Organized and detailed confirmation of vendors and services.
Logistical guidance to save you time and money.
Licensed officiant to perform ceremony.
Online photo gallery and high resolution image files on USB drive.
$100 discounted price on photography, Gelston Dwight (her husband). www.gelston.com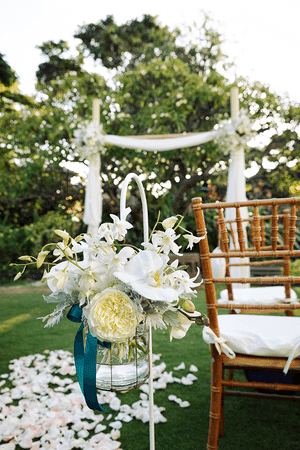 Think of Iben as the liaison between you and the island. Kauai is a beautiful host, but there is some coordinating that needs to happen to make everything run smoothly. Iben is flexible and will assist to what degree to find suitable to your situation. You can add any of the following services to her Kauai Wedding Package (prices found here)
Hawaiian Water Sharing Ceremon
Private Locations
Bouquets
Grooms Maile Lei
Aisle Blooms
Musician
Video, Edited DVD
In-Room Hair/Makeup
Guest Lei
Additional Photography Time
Chauffeur Transportation
Iben is incredibly flexible. Need "day of" assistance? She can do it. Want her to plan everything? She can do that too. Want to do things yourself? Her DIY consultation will set you on your way. Even if you are just looking for inspiration (check out her amazing blog), Iben is a wonderful resource. Her expertise in Kauai weddings in unmatched. Contact her today and say goodbye to any wedding planning anxiety you may have.
Website: www.wedkauai.com
Phone: (808) 635-9393
Email: iben@wedkauai.com or send inquiry here
But, don't take my word for it:
"All I have to say is Iben is the absolute best! She has exquisite taste and is fully aware of all the little details that make a wedding perfect. What I really loved about her too was how quickly she got back to me. Since I planned my whole wedding from my home on the mainland, it was all done through email. I must have emailed her a thousand times and every single time she got back to me within 24hrs – usually faster. She made planning my wedding stress free and fun. On the day before our wedding when we met her for the first time she was very friendly, laid back and fun. On the day of the wedding she totally put me at ease as well, taking care of everything and sending her calming aurora my way. If you are looking for a dependable, talented and friendly wedding planner/person that can give you the classy wedding of your dreams then Iben is the one for you! Thank you Iben!!!"
— Mia & Stefan
All photos are property of Iben Dwight and Weddings Kauai (more can be found here)